According to data.cms.gov, as of October 4, 2020, there have been 252,939 confirmed cases, 143,848 suspected cases, and 59,626 COVID-19 related deaths in American nursing homes and long-term care facilities. These facilities are entrusted with the care of your loved ones and are responsible for using all means necessary to protect residents and employees from the virus. Unfortunately, in some cases, this has not been the case. A recent article from Channel 41, KSHB Kansas City, reported a 156-bed nursing facility in the Northland has 98 reported resident cases, 44 staff cases, and 3 COVID related deaths. CNN reported in another article, every resident of a Norton County nursing home has tested positive for the virus and 10 have died as a result. In July and August, one or more nursing home residents were affected with the virus every minute and at least 11 residents passed away each hour. With such alarming rates, it is clear some facilities are not implementing precautions to protect residents and employees from the spread of COVID-19.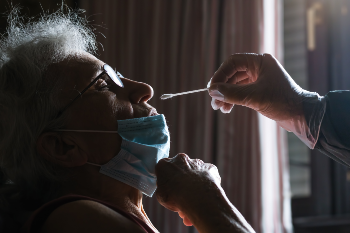 Due to the congregate nature of nursing homes and the chronic illnesses of residents, such facilities are breeding grounds for respiratory pathogens like COVID-19. The CDC recommends a strong infection prevention and control (IPC) program for both residents and healthcare workers. The IPC officer should develop policies and procedures, train employees, look for signs of contamination, and monitor for compliance. Failure to comply with such guidelines results in the spread of pathogens.
If your loved one has contracted the virus in a health care facility or passed away, as a result, you may be eligible to seek damages for personal injuries and/or wrongful death. Facilities are negligent if they fail to use the level of care as a reasonably prudent and careful health care provider would under similar circumstances and if their failure directly caused or contributed to cause injuries and/or death.
There are different guidelines for pursuing such claims in the states of Missouri, Kansas, Colorado, and Nebraska. The staff at Kendall Law Group can guide you through the process with care, compassion, and expertise.
If you feel you have a potential case, it is important to contact an attorney as soon as possible as there are time limits to filing such claims. Contact Kendall Law Group today to speak with an experienced attorney.